Hospital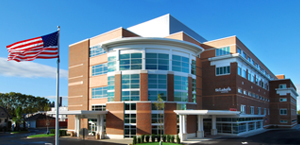 St. Luke's University Health Network (SLUHN) is a non-profit, regional, fully integrated, nationally recognized Network providing services at more than 200 sites, primarily in Lehigh, Northampton, Carbon, Schuylkill, Bucks, Montgomery, Berks and Monroe counties in Pennsylvania and in Warren County, New Jersey.
Key Network indicators include:
54,000+ annual admissions
194,000 annual emergency room visits
9,590+ employees (the region's second largest employer)
1,299 physicians (representing more than 90 specialties; 92 percent board certified)
1,500+ volunteers
The Network provides services at more than 200 sites, including:
More than 160 employed primary care/specialist physician sites
Various outpatient testing and service facilities
Temple/St. Luke's School of Medicine
Home health
Hospice services(inpatient and outpatient)
Largest hospital-based EMS unit in Pennsylvania
Various other health care services
The Weight Management Center is based in our Allentown campus thatis located in the west end of the city of Allentown, Pennsylvania.
A five-story addition opened in June, 2003, that included a 10,000-square foot Emergency Departmentexpansion, five state-of-the-art operating room suites, some of the most advanced imaging technology from GE Healthcare, the addition of a 10-bed Intensive Care Unit, and various support departments.
More recently, the hospital doubled its size and the size of the Emergency Departmentin September 2008.  The renovation added six new ICU beds for critical care patients, 22 new medical/surgical beds, two cardiac catheterization laboratories, a 680-foot state of the art Advanced Laparoscopic Operating RoomSuite and a Post Anesthesia Unit(surgical recovery area).
In early spring, 2010, a new medical unit was opened, as well as a new Wound Management Centerwith two new hyperbaricchambers, and in early April, a HomeStar retail pharmacy filled prescriptions for patients, visitors and employees.
St. Luke's has added outpatient facilities in close proximity to the Allentown Campus to meet the community's health care needs.
Our facilities have been designed to give the best medical care to patients while surrounding each patient in a pleasant environment for healing.
The rooms are clean and inviting to patients and visitors alike. It is well known that our well-appointed, private patient rooms provide the highest comfort.
Automated bed, television and nurse call controls and your room tray are conveniently located within your reach. Our staff is committed to provide you with professional courtesy and highly-skilled medical care.
We recently earned a 95 percentile ranking in overall inpatient satisfaction scores as measured by Press Ganeya national patient satisfaction survey company.
Year-end data from nearly 1,500 patient surveys resulted in the hospital earning a 95% overall inpatient satisfaction ranking, beginning July 1, 2009 and ending June 30, 2010. The score places the hospital among the top 5 percent in Pennsylvania, New York and New Jersey for satisfaction and service.
The hospital is compared to 205 other large (100 beds or more) acute-care hospitals in the same region.