About Leonardo Claros,

MD, FACS, FASMBS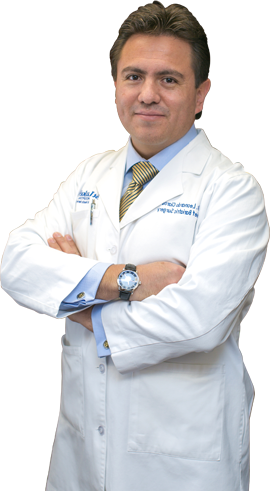 Dr. Claros serves as the Section Chief of Bariatric Surgery and also as the Medical Director for the Weight Management Center at Saint Luke's University Health Network a designated Bariatric Center of Excellence by the MBSAQIP (Metabolic and Bariatric Surgery Accreditation and Quality Improvement Program) in the Lehigh Valley, PA.
He is a Fellow of the American College of Surgeons (FACS), a Fellow of the American Society for Metabolic and Bariatric Surgery (FASMBS), a designated bariatric surgery center of excellence surgeon and is board certified by the American Board of Surgery (ABS).
Currently, Dr. Claros has performed over 3,000 bariatric cases with excellent results that rank him consistently among the best surgeons in the country.
He was the first surgeon in the entire Lehigh Valley to perform a robotically assisted Gastric Bypass and Sleeve Gastrectomy. He offers many surgical options including laparoscopic gastric band placement, sleeve gastrectomy, gastric bypass, duodenal switches, robotically assisted bariatric operations, revision surgery,diagnostic and therapeutic endoscopic procedures as well as innovative approaches as the single incision surgery enhancing cosmetics results for patients that qualify for that technique.
He is currently actively involved in clinical research and academic teaching, a passion that he has developed over the years having received multiple teaching awards.
Dr. Claros is fluent in English and Spanish and is willing to work with international patients to offer them his expertise in the bariatric surgery field.